Ms. Minh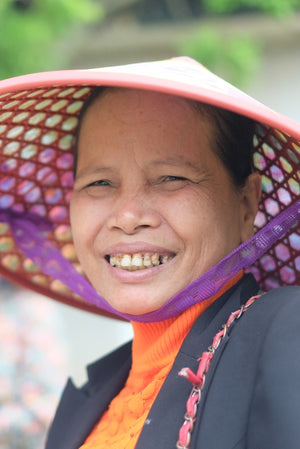 Ms. Minh became a member of the Tan Minh Single Women's Cooperative when it began in 1996. From 2011-2013, she served on the management board. She is now a  happy member of the silk cutting team.
Ms. Minh describes the years before the cooperative as both exciting and disappointing. She was happily married and gave birth to two sons. But the relationship did not last. She recalls both of them being very young and naive to navigate the hardships of married life. The newly single mother built herself and her sons a house made from mud and straw and enjoyed many years there with them. She eventually adopted a baby girl into their family, and life was even sweeter. 
However, Ms. Minh was subject to ridicule by local villagers because traditionally, a divorced woman brings shame to her family. But she was determined to ignore their preconceptions and focused on running her business. She stayed mostly out of social circles, until she discovered the launch of the project by Coalition for Environment and Development. 
Through the CED's micro credit savings program, the business owner was able to run a small farm and improve her economic status significantly. And through support from the ladies at the Women's Cooperative, she feels empowered to speak up when she wants to. She has acquired many skills since joining, like working well with others and repairing relationships. She is now a proud grandma to eight grandchildren. Her biggest wish is to watch them grow up well. And to expand her farm so that she may share fresh food with more people.
---
Also in About Us