Ms. Lieu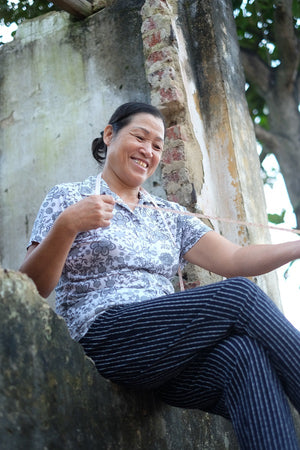 Ms. Lieu has participated in the project led by the CED since its beginning in 1996. From 2015-2018, she was on the board of management. She now enjoys her time as an active member of the cooperative's sewing team, as well as mother to her grown son. 
Ms. Lieu's husband died when her son was only 3 years old. With no close family left to support her financial and emotional needs, she was forced to raise her son alone. She recalls her days feeling so dark, riddled with shame of carrying the title of single mother. And wondering if remarrying was a realistic option. But the words of her innocent son are what she remembers most clearly, encouraging her to try one more time:
"Mom, please don't remarry. Stay with me. One day when I grow up, I will take care of you."
The words that still cause her to cry tears of happiness to this day.
Her son kept his promise. He deeply cares for and respects his mother for everything she has accomplished. And the shame Ms. Lieu carried was set down, after receiving support and grace from the ladies of the Tan Minh Single Women's Cooperative. She hopes to encourage and inspire confidence in more women.
---
Also in About Us