Ms. Hat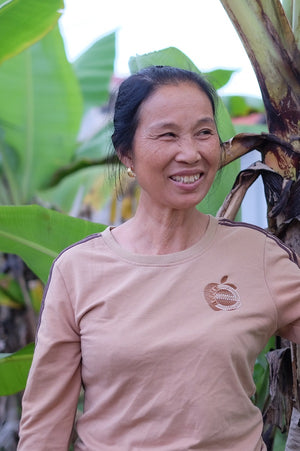 Ms. Hat joined the Tan Minh Single Women's group when it first formed in 1996. She is now the cashier of the cooperative.
  Ms. Hat has known difficulty from an early age. Her father died when she was young, and having enough money for the various household expenses was a struggle for her family. So much that she dropped out of school in grade 6 and began working as a duck herder to help support them.
When she was only 16, she was arranged to be married to a man she barely knew and leave her childhood home to live with him and his family. It was an especially troubling time for her. Insensitive treatment and verbal abuse from her in-laws made her duties as a wife even more difficult. The family was large. She was responsible for feeding 12 mouths each day. 
After suffering for years, Ms. Hat found her strength and left her husband and the house she shared with his family. She settled back into her mother's home again with her two year old daughter. 
In the years following, Ms. Hat fell in love and gave birth to another child. And despite a marriage proposal, she did not ultimately feel that it was right for her to be married a second time. So she chose to continue living as a single mother. It was around this time that she joined the Cooperative's sewing team, achieving her goal of supporting her children. 
Ms. Hat is proud of the life she lives. Her grown children are financially secure and lead successful lives. She now enjoys her twilight years playing with her grandchildren, taking part in art performances at the Single Women's group, and becoming as carefree and healthy as she possibly can. 
---
Also in About Us