Ms. Hanh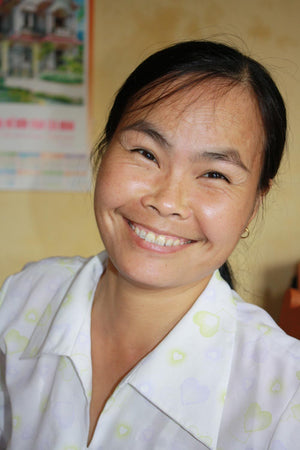 Ms. Hanh is the accountant of the cooperative, she was the chairwoman 2015-2017. She has 
been in the group since the beginning, 1996. She is also the leader of her village group.
At 19 Ms. Hanh married a man who already had two wives and fourteen children. Her husband passed away six years later when their son was two. Her husbands' siblings made her leave; only the eldest children could inherit the land. She moved back to her parent's house. Eventually she was given a plot of land to build a house. 
Her son suffered from a kidney disease as a child. For 10 years she had to bring him to the hospital for a monthly treatment. She ended up selling her land to cover the cost of the treatments. Luckily the treatments worked and her son is now able to work and support for his mother when she gets old.
Ms. Hanh dreams about her son having successful life and about the living conditions continuing to improve in her community, the cooperative will play a big role in that.
---
Also in About Us